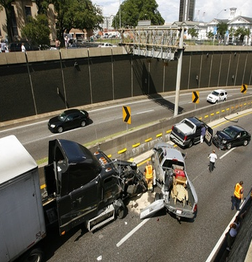 Raceland, LA – Woman Dies In Multiple Car Wreck On LA-1 At 4 Point Dr
Raceland, LA (July 9, 2019) – Around 10:00 a.m. on Tuesday, July 9th, Louisiana State Police began investigating an accident that took the life of a local woman. The incident happened on LA-1 at the intersection with 4 Point Drive. 
LSP identified the deceased as 78-year-old Donna Pelcha, of Thibodaux. 
Initial reports at the scene indicate that Pelcha was stopped on LA-1 while inside a 2003 Mitsubishi Montero. 
Simultaneously, 33-year-old Luis Berrios, of New Orleans, was traveling northbound on LA-1 in a 2019 Kenworth pickup truck. Berrios failed to stop for unknown reasons, colliding with the rear of the Mitsubishi. The impact caused the Mitsubishi to strike a pickup truck and the Kenworth to roll over on its side. 
Pelcha was taken to a local hospital but later succumbed to injuries sustained in the collision.
Berrios did not sustain significant injuries in the accident. It is unknown if intoxication was a factor on part of the driver. He was cited with careless operation with further charges potentially pending.
The crash is currently under investigation. 
We would like to offer our deepest condolences to the family of the deceased at this time.
Louisiana State Car Wrecks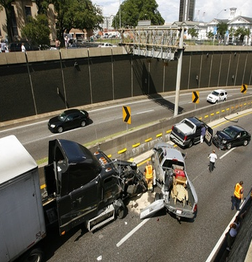 The State of Louisiana has a higher fatality rate regarding traffic accidents than the national average.
This is partly due to the increased instances of drunk driving in the state.
Whatever the reason, car crashes can result in very serious injuries and even death in extreme cases.
Surviving family members should protect their legal rights through partnering with a Louisiana wrongful death attorney immediately following a deadly crash. 
At Fisher Injury Lawyers, we understand that losing a loved one is a devastating time, and you shouldn't have to worry about the legal aspects of a wrongful death lawsuit.
Call us at 225-766-1234 if you have loved a beloved family member in a reckless accident. 
Note: To write and construct these stories, we utilize a variety of sources including news bulletins and first-hand accounts of the accidents. As we are not present on the scene, these accounts may not reflect the reality of the situation or the injuries sustained. If you notice any discrepancies between our content and the accident, please inform our office as soon as possible and we will make the necessary corrections.
Disclaimer: Fisher Injury Lawyers is an involved member of our local community, and as such, our intent is always to improve the lives and safety of those in our community. These accidents are a devastating reality of life in our cities and across our state. Our hearts go out to all those affected by them. We hope that by casting a light on these accidents, we will encourage others to take more care in their daily lives to avoid accidents in the future. These posts are not a solicitation for business, and the information included in them should not be construed as legal or medical advice. If you've been involved in an accident, you should contact a qualified attorney to discuss the specifics of your case. We wish the best for all those affected by these accidents.