Nursing Homes Responsible for 30% of Louisiana Coronavirus Deaths 
Nursing Homes Responsible for 30% of Louisiana Coronavirus Deaths
Coronavirus deaths in Louisiana's nursing homes and long-term facilities climbed to 403 — around 30% of the state's total COVID-19 deaths.  Meanwhile, nearly half of the state's nursing homes and long-term care facilities have at least one COVID-19 case.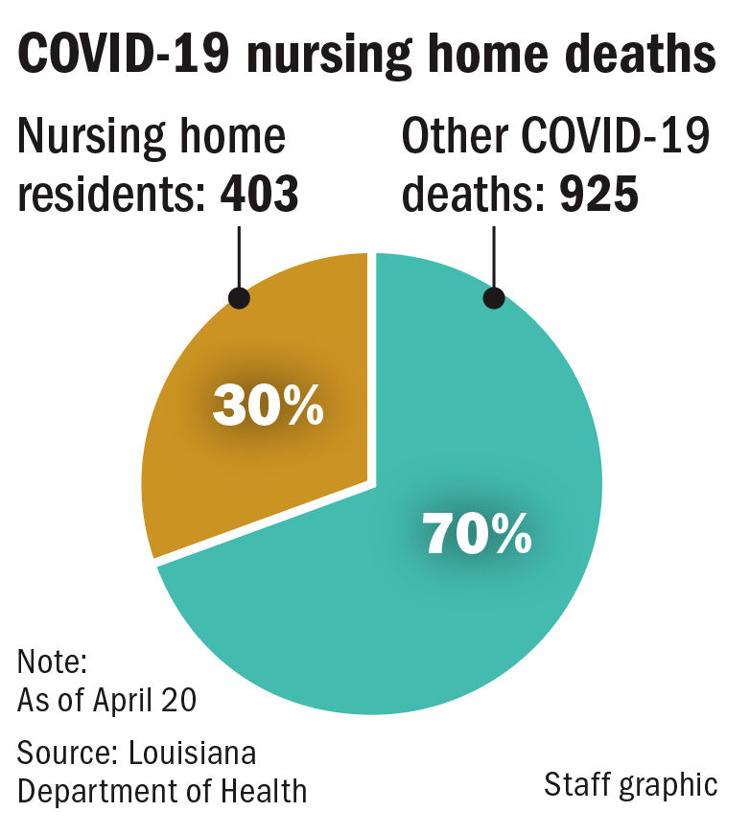 Nevertheless, state officials said Monday that they had no plans to begin naming individual homes experiencing residents with the virus.
Furor Grows Across the Country
High profile outbreaks in nursing homes in Washington, Maryland, Tennessee and other places have claimed hundreds of lives and infected hundreds of others.
In Louisiana, the virus has exacted the deadliest toll at the Southeast Louisiana Veterans Home in reserve, where 22 have died and 47 residents have tested positive. Officials at the center — the state's worst single confirmed outbreak of the disease — are still awaiting test results on another 64 residents. Only 10 residents have tested negative so far.
As of Monday, the state said that 201 of the state's 436 nursing homes had reported at least one case of COVID-19 among its residents. Statewide, 2,034 long-term care residents had tested positive.
The 403 deaths are nearly a third of Louisiana's total of 1,328 as of Monday. Louisiana has had 24,523 cases of coronavirus.
Huge Jump In nursing Home Coronavirus Deaths
Monday's death toll from the state's nursing homes and long-term facilities was a jump of 128 from April 15, the last time the state released nursing home data.
Until April 1, the state had reported individual facilities where clusters of cases were found. But as the list grew to nearly 50 facilities, the state said it would only provide information on the number of cases, deaths and how many nursing homes and long-term care facilities had coronavirus cases.
State Officials Dodge Questions
Gov. John Bel Edwards didn't comment when asked Monday during his regular press briefing if the state planned to resume releasing the names. "I don't know," he said, glancing to his left at Dr. Alex Billioux, head of the state's Office of Public Health.
"It would not be our recommendation to change," Billioux said.
Federal officials, meanwhile, announced Sunday that nursing homes would report cases to the Centers for Disease Control and Prevention. But that won't begin until at least next week.  Any public reporting of that information would come from the Centers for Medicare and Medicaid Services.
COVID-19, the disease caused by the virus, is particularly deadly for the elderly. Death rates for those 60 and above are far higher than they are for younger people.
In announcing the policy change to no longer name the facilities, Billioux cited guidance from the CDC. But an agency spokesman said the CDC had not offered any such guidance.
ENOUGH IS ENOUGH!  Families of nursing home patients must know if their loved ones are at risk.  State offices, nursing homes, rehabilitation facilities and long-term care facilities must inform residents and their families of any Covid-19 cases in residents or staff.  This information is necessary fro families to make decisions regarding the care of their lived ones.
Get Help Now
Has your loved one contracted coronavirus in a Louisiana nursing home, retirement home or rehabilitation facility?  If so, the nursing home may be legally liable for the illness or death.  Call the nursing home negligence lawyers at Fisher Injury Lawyers now.  We will expertly evaluate your case and inform you of your rights at no cost or risk to you.  At Fisher Injury Lawyers we only get paid when we win money for you!  Call Now.
Nursing Homes Responsible for 30% of Louisiana Coronavirus Deaths